Water power was widely used for milling purposes in Europe during the Middle Ages; at about the same time wind power is reported to have been used in China and Europe as well. In nineteenth-century Europe and North America, oxen were displaced by horses, which provided power for many mechanical devices from about 1850 to as late as 1965.
The first seed drills were developed in China and Mesopotamia in the third millenium B.C. (van Bath 1960). The Mesopotamian drill required three workersone to drive the oxen, one to put grain in the hopper, the third to hold the drill steady. It was apparently possible to use this instrument profitably only in the fertile soil of Mesopotamia, where high yields could be achieved and labor was abundant.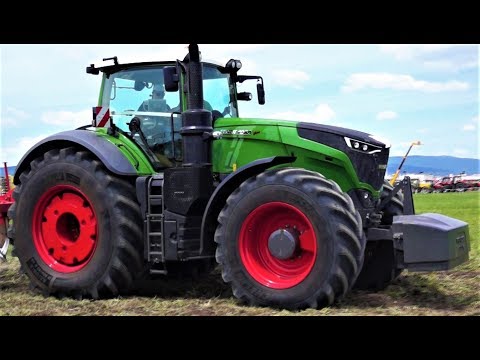 Working Fendt 1050 Vario Tractor im Einsatz / Fendt 1030 Vario at Work - Field DemonstrationThe projected gradual increase in the use of renewable fuels coupled with state-of-the-art advances in mechanization, such as precision farming, means that the goal of high productivity may be coupled with sustainable strategies and environmental protection.
Source 1 | Source 2 | Source 3
The most dramatic aspect of mechanization is the shift from one source of power to another. In ancient China cattle began to replace human labor more than 3,200 years ago. Between the second and fourth century A.D. fairly widespread use of water power is reported from China for rice pounding, grinding, and water lifting (Liu 1962).
Source 1 | Source 2 | Source 3