By the 1880s combines drawn by between twenty-four and forty horses reaped ten to fifteen hectares a day in California. In the 1890s combines drawn by steam tractors had a capacity of up to twenty hectares of wheat a day (van Bath 1960; USDA 1960), but combines did not spread beyond California until 1914.
They did not appear in Great Britain until 1928, nor in most of continental Europe until 1935, and not in Japan until about 1970. At each level of mechanization, machines for harvesting maize have tended to lag a few years behind those for small grains. Hay harvesting equipment, horse rakes, and tedders became important during the American Civil War of the 1860s and remained so until World War II. In France in 1892, hay-raking machines had not reached 10 percent of their 1955 peak number.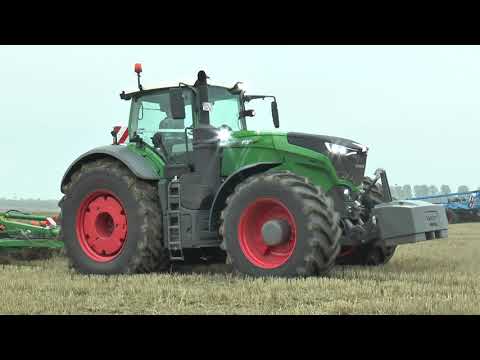 Fendt 1050 Vario + 926 Vario MK II with Amazone Cenius TX and Lemken Smaragd cultivating a field in Eastern Germany in 2015. The 926 Vario has more than 20.000 hours on the clock.In the meantime, it is imperative that human and animal powered mechanization is made as efficient and attractive as possible to eliminate some of the drudgery associated with it. Substantial investment in research and development by governments, industry and international agencies is required to achieve this goal. For example, it has been proposed that state-of-the-art precision farming technologies could be integrated with animal powered mechanization to enhance land productivity through precise application of crop nutrients and environmentally sensitive tillage systems.
Source 1 | Source 2 | Source 3
By common consent, diesel oil (used to power the compression ignition engines, so dominant in agriculture) is a nonrenewable resource. Attempts to find or identify a diesel fuel substitute that could be used in conventional diesel engines have made some progress. In particular, the use of oils from renewable oilseeds has enjoyed some limited success in countries such as Austria, where generous tax remission is allowable on a fuel that is otherwise uneconomic.
Source 1 | Source 2 | Source 3