Position control is a system whereby the position of a fully mounted implement (sprayer or fertilizer distributor, whose weight is completely supported by the tractor) is automatically maintained in a constant position (e.g. operating height over the ground) despite leakages in the hydraulic system tending to lower the position of the implement.
Additional and exciting technological developments are taking place in tractor design with emphasis on precision farming, communications and information technologies. These are intended to enhance performance and take account of energy conservation, environmental protection and sustainability considerations. The modern tractor is reviewed in detail in Tractors and Transport (EOLSS on-line, 2002).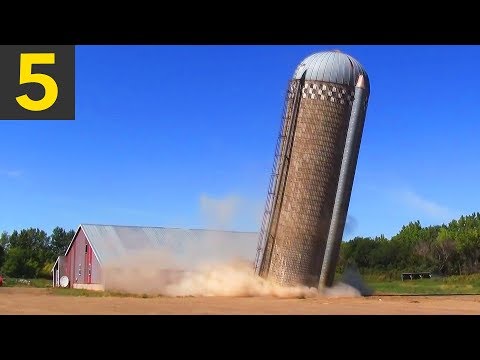 These old silos are removed to free up usable land. Mesmerizing... I hope everyone enjoys the upload today!
Several segments are licensed under Creative Commons (CC)
Greg Swingdle (CC), TP Soer (CC), Philip Gibson (CC)
The Top Fives channel brings you informational and entertaining top five videos from around the world. Join us and subscribe for more.

The importance of enhancing and upgrading such mechanization practices prior to the almost inevitable transition to engine-driven equipment is now well recognized. Automation of agricultural mechanization is an intensive area of research and development with emphasis on enhancement of food quality, preservation of operator comfort and safety, precision application of agrochemicals, energy conservation and environmental control.
Source 1 | Source 2 | Source 3
Sponsored
Video
Sponsored
Cereal straw and other dry byproducts (wood chips) may be used in small on-farm boilers typically to generate heat for drying harvested crops (cereals, oilseeds) or space heating (greenhouses, residential). Furthermore, biogas (predominantly methane) generated from animal wastes (e.g. pig slurry) by anaerobic digestion may also be used to power on-farm boilers typically to generate heat and also electricity in larger and more sophisticated installations.
Source 1 | Source 2 | Source 3